The start of a new year is always a good time for Elektor engineers and editors to reflect on the past and prepare for the future. After reviewing some of the highlights from 2022, we offer an overview of some exciting content, projects and plans for 2023.
The start of a new year is always a good time for Elektor engineers and editors to reflect on the past and prepare for the future. After reviewing some of the highlights from 2022, we offer an overview of some exciting content, projects and plans for 2023.
2022 in review
During this busy year, Elektor's editorial and engineering team has achieved many successes, despite all the challenges posed by global economic conditions. What motivated us to succeed? At all times, the technical needs and concerns of engineers, manufacturing professionals, and students in our global community have been our top priority. When we started every project – whether it's a really thick edition of Elektor Mag, a webinar, or a live event – we always had our members in mind. Below are some of the notable projects that we have presented.
Elector Mag 2022: in 61street In the year Elektor delivered a host of premium editions in four languages: English, Dutch, French and German. This year, each release had a "focus", and we spent a lot of time preparing articles (in addition to webinars and videos) on these important topics: Motor Control (January/February), Embedded Development (March/April), Internet Stuff (May/June), Test & Measure (July/Aug), Summer Circuits 2022 (Aug), Wireless Applications (Sep/Oct), Production & Components (Nov/Dec), Elektor Works (HR issue, Dec), and Elektor Mag : guest edited by Arduino (dec).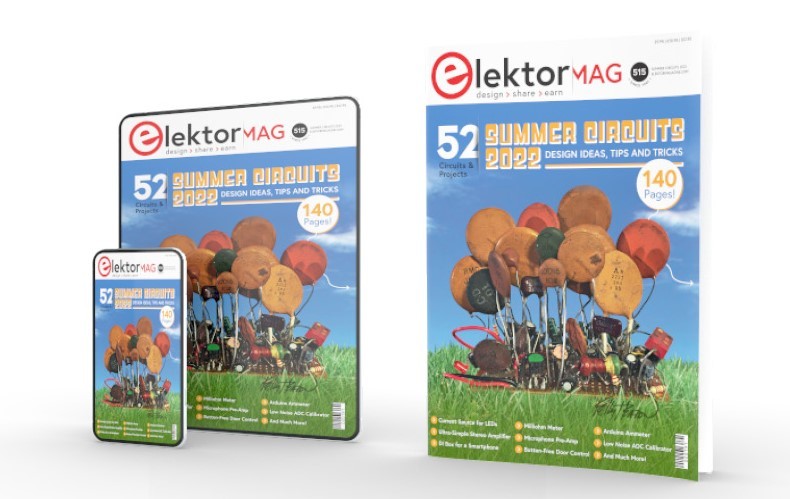 Elector Lab Talk: Each month, the Elektor Lab team's engineers and editors brainstorm, exchange engineering ideas, plan future electronics projects, discuss the Elektor Mag, and chat with like-minded electronics enthusiasts. Join Mathias Claussen (Chief Engineer, Elektor) and Jens Nickel (Editor-in-Chief, Elektor) as they discuss a variety of topics, such as rapid prototyping, embedded programming, MCU DIY projects, vintage electronics, and lab equipment.
Electromag: Arduino guest editor version: In 2022, Arduino engineers worked closely with the Elektor content team to create a special edition of Elektor Mag, available in English, German, French, Dutch and Italian. The guest-edited magazine touches on a variety of topics, including Arduino Pro apps, DIY projects, and games with Arduino. It's a collector's item!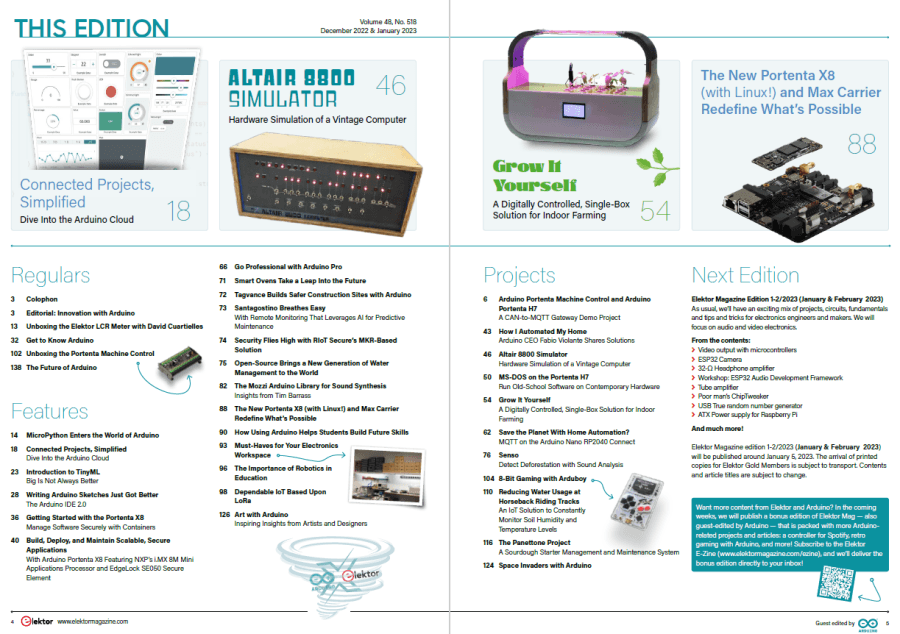 Electronics Industry Jobs and Recruitment in 2022 (HR Edition): At the end of 2022, the editorial team at Elector has published an HR-focused edition of Elector Mag. The magazine includes investigations and insights on the state of the industry from professional engineers, academics, industry leaders, and electronics sector recruiters. Download a free copy!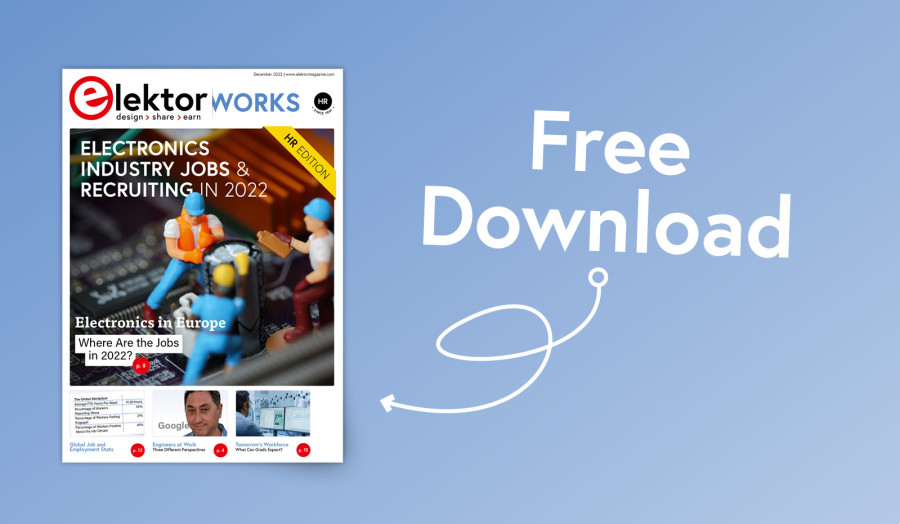 Summer courses 2022: During the summer of 2022, we're bringing back the classic Elector Edition: Summer Circuit! The 140-page super dense edition showcased the work of dozens of innovative engineers and makers from around the world. Here are a few of the inspiring projects: two rotary encoders on one analog input, a hand sanitizer dispenser, an ultra-simple stereo amplifier, an external source filter, a simple PWM generator based on an AVR ATtiny13, and an acoustic proximity sensor. The magazine had something for everyone, from embedded enthusiasts to audiophiles to analog hobbyists.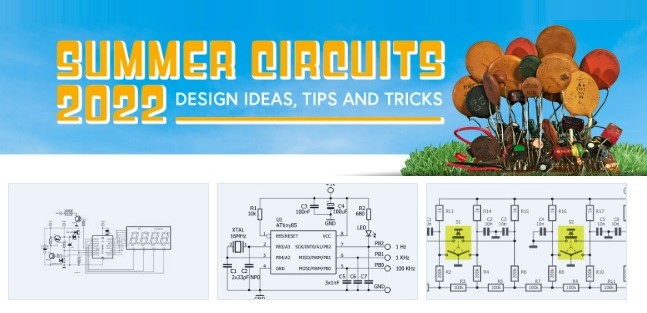 Classic circuit: American style siren: Each year, the engineering and product teams at Elektor work together to bring you exciting new Elektor kits, books, and tools. The American Style Siren Kit is a great example. Based on reader Elektor Ludwig Libertin's classic Circle from 2003, the easy-to-assemble set is a great addition to your workbench, desk, or bookcase. Once assembled, simply press a button to play one of three different US-style sounds: fire, police, or ambulance.
Elector TV: Tens of thousands of engineers and manufacturers tuned into Elektor TV last year for tutorials, project ideas, in-depth interviews, and product reviews. Here are some of the most popular sights of the year:
Elector AcademyAre you looking to upgrade your engineering skills? Want to dive into electronics-related topics with the Elektor experts? Elektor Academy is a useful video-based resource for electronics engineers, programmers, and manufacturing professionals looking for relevant courses and tutorials. Recent courses have covered the following topics: debugging Arduio code, neural networks, and building reusable programs.

Engineering Visions: Elektor Industry Insights is a live stream for busy engineers, makers, and students who want to stay informed about electronics. In each episode, Stuart Cording (Editor, Elektor) covers real engineering challenges and solutions with electronics industry experts. Topics included RISC-V, display technology, embedded Linux, software-defined vehicles, the patent application process, and more.
Elector Fortissimo -100Do you want a high quality subwoofer? The Elektor Fortissimo-100 is for you. The kit contains everything you need to build a Fortissimo-100 monoblock, including a set of high quality PCBs, a heatsink, and key mechanical parts. check it out.
Looking forward to 2023: a new year
In the coming year, we plan many exciting Elektor Mag releases, engineering projects, events, live broadcasts, courses, books, and webinars. Check out our editorial calendar below, and be sure to follow our website and social media accounts for real-time updates on all things Elektor!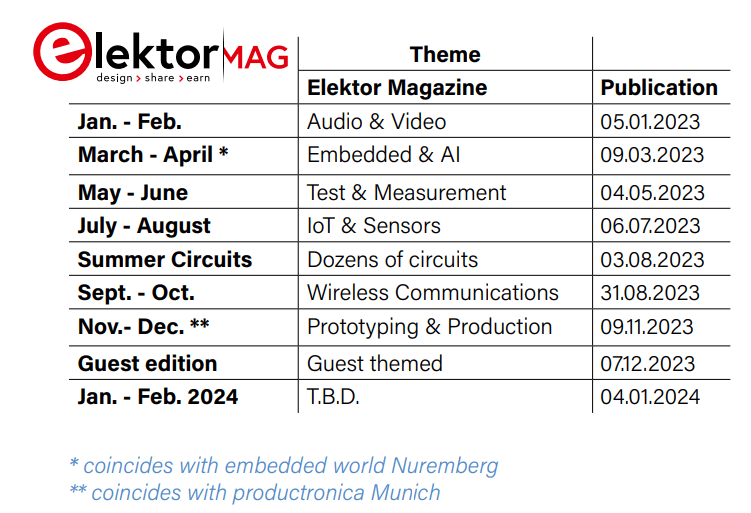 Do you want to submit a project or write an article? The easiest way to start rolling the ball is to post your initial thoughts on Elector Labs platform. Sign in with your free account and start collaborating with Elektor engineers and editors!
a happy new year!
!function(f,b,e,v,n,t,s) {if(f.fbq)return;n=f.fbq=function(){n.callMethod? n.callMethod.apply(n,arguments):n.queue.push(arguments)}; if(!f._fbq)f._fbq=n;n.push=n;n.loaded=!0;n.version='2.0'; n.queue=[];t=b.createElement(e);t.async=!0; t.src=v;s=b.getElementsByTagName(e)[0]; s.parentNode.insertBefore(t,s)}(window, document,'script', 'https://connect.facebook.net/en_US/fbevents.js'); fbq('init', '378958132769411'); fbq('track', 'PageView');

#happy #year #future