Friday 7 October 2022
by Gary R. Rasberry
Photo by Nick Winning/The Daily Standard
COLD WATER – Even as Coldwater trailed Marion Local in the second set after the opening with a 6-0 lead, momentum was evident on the Cavaliers side.
The Cavaliers came back to take the second set, then a big win in the third to hand the Flyers their first loss in the Midwest Athletic Conference of the season in a 25-19, 25-23, 25-11 win in front of a raucous crowd at the Palace Thursday night.
The win creates a three-way tie at the top of the MAC standings with Marion, Coldwater and New Bremen standing 6-1 with two conference games for each team next week.
"Every game counts," Coldwater coach Nicky Itzler said.
"(Coldwater) really came out to play," Flyers coach Anthony Chapel said. "You can tell their coaching staff got them ready to go. We were well picked. That's on me. I wasn't ready for them and they shot."

The two teams played back and forth in the first set with several points long with both teams playing good defense. The group has been linked six times with two major changes. Coldwater took the lead well at 15-14 by killing Madison Wendell, but the Flyers took a point at 20-19 by killing Lindsey Koenig. Gina Lugers put back the lead to the two positions, Spencer Itzler slipped to serve and made an ace, followed by killing Lugers and Wendell to close out the group.
The Cavaliers maintained their momentum as Mia Knabeck led by five points in a row to make it 6-0 Coldwater, but the Flyers slowly slipped into the sidelines. Avae Unrast tied the match at a 15-all ace, then followed up with another ace to give the Flyers their first lead at 16-15. Julia Muller later added two big serves and got an impressive block from Koenig to become 20-17 Marion as coach Itzler called timeout.
Spencer Itzler got the next point and Morgan Blassingame returned to serve. A quick group of Etzler followed by killing Riley Rismiller and then killing Etzler to give the Cavaliers a 21-20 lead, only to have Nicole Frank tie the group again with a kill. Chloe Runebaum got a knockout to put the Flyers forward 22-21, but Itzler dunked the ball over the net for another equaliser.
Kendra Clone scored a goal in a single block for Coldwater, but Koenig's killing again made her 23. Leugers stop any Flyer momentum with a kill to a set point before Wendel closes the group with a kill.
"That's on me," Chapel said. "I let them rest." "I should have kept pushing."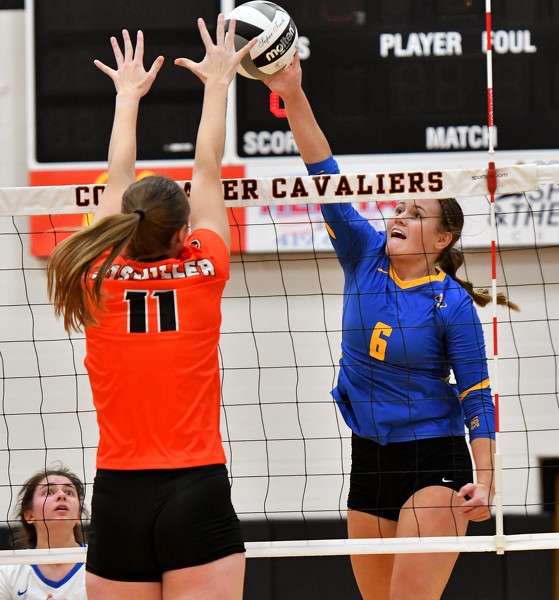 Photo by Nick Winning/The Daily Standard
"I think Marion is very good," said coach Itelzer. "They are very well trained and play well together." "We held a bit after going up. I think just managing that part of the game as we grew and matured was important. A huge step forward for us."
The third group had ties in 1-all and 3-all, but then the Cavaliers were all over as Clune, Leugers and Morgan Blasingame had multiple service points early on. It was the Ligers who finalized the match with five straight points, and booked the inning with votes to end the match.
"Great defense," said coach Itzler. "Everyone was involved. It was fun to watch and to be involved in."
The Loggers finished the night with 12 kills, five aces and 19 assists. Wendell had 11 kills, two aces and two blocks. Spencer Itzler scored 22 digs while Blassingame had seven kills and 14 digs.
Koenig finished with seven kills with Runebaum adding five kills to Marion (17-3).
Coldwater (14-4) host Bryan and LCC in a three-way game on Saturday before ending the regular season with a road trip to St. John's on Tuesday before hosting Minster on Thursday.
Marion wraps up the regular season next week at Versailles on Tuesday and at Hangar with St. John's.
#Cavs #sweep #flyers #Daily #Standard #Stories