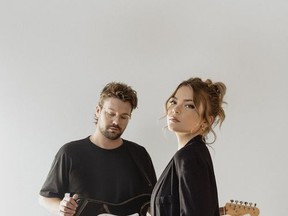 Article content
The last time Noelle Maracle performed in Kingston, in 2018, she played Cut Out at the Skeleton Park Arts Festival. She's back in town this week, but with a new stage name, Noel, to play her own songs.
Article content
Not long after that show – and after she finished Napanee District High School – she stopped performing and signed with a record label.
"I was kind of evolving, figuring out what my voice was like because I had been doing a lot of covers before that," said the 21-year-old, who grew up in Tendinaga. "And so I stopped (performing). Then there was COVID, so, obviously, no shows. I've played three shows now, and it's crazy."
Maracle is currently the opening act in Virginia for Vegas-Ria Mae's "Rock, Paper, Scissors" tour, which stops at the Broom Factory in Kingston on Wednesday night. It's an early offer for all ages and it's already sold out.
It was a cover, in fact, that got her a record deal, and eventually, on that tour.
Article content
Markle, who comes from a musical family, has been singing since the covers were stripped and, just as importantly, she has been singing since she was a child. Noelle now has 94,000 subscribers to her YouTube channel, and her single "Therapy" alone has garnered over a quarter of a million views since its release last year.
It was her cover of the song Virginia to Vegas, the name under which she performs by Derek Baker, that changed the course of her life.
Four years ago, I posted a "Selfish" cover on Instagram. He saw it and sent me a message and set up a meeting with the label (Wax Records)," Maracle recalls. "I went in and everything went really well, and then I started working with them a lot. They introduced me to so many amazing writers and producers and then, I signed and the rest is history."
Article content
That date includes releasing her first EP, "30K" earlier this year. Although she's not shy when it comes to performing, writing songs was an entirely different matter.
"Four years ago, I was writing a lot of pop songs that I didn't really connect with. And then, in terms of the pandemic, I really focused on what I really love," she said, adding that she is now "kind of catching up with the '80s."
Next Friday, she'll release her latest single, "Daydreaming," which she recorded alongside tour mate Virginia to Vegas. While only a few shows, the pair would perform the new song every night at the end of Baker's set.
"I was working on a golf course this summer as a camper girl, and I was driving around and I was like, 'Daydreaming…', singing the chorus over the phone.
Article content
And I came up with this song idea and I took a voice note of it and sent it to Derek. We had never worked on something that was going to be a duet before, and he loved it. So we booked a session and had a lot of fun doing it," she said, excited to head east with the tour after the Kingston show.
"It all came together really well that there was an opening slot and he was kind enough to let me open, which is crazy. Awesome. And doing 'Daydream' on the tour is absolutely amazing."
---
There are a few other artists coming to Kingston this week, but let's start with those who haven't.
Matthew Goode, who was scheduled to perform at Spire on Friday night, has postponed his solo acoustic tour on Wednesday due to illness. He has rescheduled the concert for Wednesday, February 8th, and all tickets for that date will be honored instead.
Article content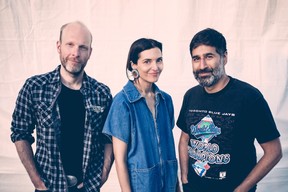 On Monday, Rural Alberta Advantage will be doing an early showing at BluMartini. The opening will be Zone. Tickets for the 7:30 p.m. show are $30 apiece.
Noelle and company aren't the only ones performing on the broom this week. Although not a concert, spoken word performer Shin Kojizan will be at the newly opened venue on Saturday night. The all-ages show starts at 7:45 (doors open at 7) and tickets are $35 apiece.
Meanwhile, at the Grand Theatre, it's going to be a busy weekend.
Friday night kicks off with pianist and singer Michael Kaishmer, who plays a mix of classical, jazz and blues, as part of his coast-to-coast tour. Show begins at 7:30pm and tickets start at $32.50 plus HST and handling fee.
Saturday night sees Juno Award winner Serena Ryder return to Kingston. The opening will be Clerel. It also starts at 7:30pm, and tickets start at $49.50.
Article content
The Tout a Trac production of "Alice in Wonderland" picks up Sunday for The Apprentice at 3:30. It's a discount show, with tickets starting at $15-plus.
Before the show, children's artists Gary Rasberry and Jean Le Claire – known collectively as RasberryJAN – will give a free performance upstairs in the Davies Lounge at 2:30 for ticket holders.
---
Just as holiday decorations are beginning to appear, so are seasonal concerts.
It starts on a Sunday as the Kingston Choral Society performs "Messiah" for the first time in three years. The concert will feature soloists Katherine Rose Johnson (soprano), Colin Rennihan (mezzo-soprano), Justin Stolz (tenor) and Corinne Thomas Smith (bass), as well as choir and members of the Kingston Symphony Orchestra.
Article content
General admission tickets for the 2:30 p.m. concert at the Spire are $25 for adults and seniors, $20 for students and free for those 16 and under. Premium seats ($40) are also available. For more information and to purchase tickets online, go to kingstonchoralsociety.ca And follow the links. Tickets can also be purchased at the door.
Note that audience members are required to wear a mask, as are performers, whenever possible.
---
Another holiday-themed production opens Thursday. This year, Domino's Theater is presenting the classic "Miracle on 34th Street." It runs until December 17th.
This week, Kingston Meistersingers "The Producers" will wrap up its show. There are performances at 7:30pm on Friday and Saturday and prayers at 2 on Sunday.
Article content
Tickets for both shows can be purchased at Grand Theater website, kingstongrand.ca.
---
Meanwhile, at Isabel, there is the 'Group Concert Series' featuring students from Queen's University's School of Drama and Music.
The Jazz Band performs on Friday evening at 7:30, followed by Chamber Bands on Saturday afternoon at 2, Wind Band Saturday at 7:30 pm, and Musical Theater and Polyhymnia Vocal Bands on Sunday afternoon at 2:30.
Some offers are free, others are $20. Go to queensu.ca/theisabel for more information and to purchase tickets online.
phendra@postmedia.com
twitter.com/petehendra

#Tyendinagas #Noelle #singing #song #recording #joining #tour